Merrill programme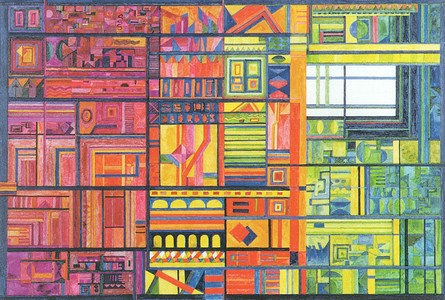 The Merrill programme is a semester/year-long study programme at a university in the USA, designed for Palacký University students. It is sponsored by partner HEIs in the USA and co-funded from other sources, e.g. Erasmus+, the UP, and also by students themselves.
Students of the UP Faculty of Medicine and Faculty of Law are considerably limited by the programmes of the selected US HEIs and the increased financial costs of studying medicine and law. No academic degrees are earned within the study programme. The expert supervisor of the Merrill programme at Palacký University is Rector of Palacký University Olomouc. The programme is administered by the UP IRO. The Merrill programme selection committee is appointed by Rector of Palacký University.
Merrill programme 2020/2021
APPLICATION for the academic year 2020/2021
In 2015 the charitable activities of Charles Merrill, founder and principal sponsor of the scholarship study programme for UP students, were terminated. As a result, Palacký University can no longer offer fully funded student mobilities at partner HEIs. Students interested in studying in the USA under the Merrill programme need to allow for an increased financial cost and check the new conditions of participation.
Palacký University has prearranged conditions for its students at three partner universities (please see the list of partner HEIs below) for the academic year 2020/2021. Subsequently, negotiations with selected partner institutions will continue with a view to establishing a new funding mechanism that would be acceptable for Czech students.
For more information, please refer to the IRO, Zuzana Hamdanieh.
Who is the programme for and how to apply?
Applicants for the Merrill programme must be full-time students at Palacký University. In the case of bachelor's programmes, second-year students are eligible to apply, while third-year students may do so only provided they continue their studies in follow-up master's programme at the UP. Students of the follow-up master's programme are eligible to apply starting with the first year of studies. From the updated list of partner institutions the applicants choose an HEI that best matches their study aims, and specify their selection in order of preference in the application.
The following documents must be submitted along with the application:
study aims (a clear idea of studies in the USA corresponding to the student's field of study at the UP)
resume
transcript of records issued and confirmed by the office for studies of the faculty
letters of recommendation from teachers (at least two, one from each department in the case of a double major programme)
Applicants submit the required and signed documents to the UP IRO.
How are students selected?
The following aspects are assessed in the documents:
academic performance
study project planned for the stay in the US, student motivation
knowledge of English (students admitted to the Merrill programme are expected to take the TOEFL test)
opinions from competent departments
study history (the programme supports primarily students with no prior experience of studying at a US higher education institution)
extracurricular activities of the student
Other criteria considered in the selection of students:
the offer of partner HEIs
specific requirements of partner HEIs on students
opinions of sponsor
Following assessment of the documents by an independent selection committee appointed by PU Rector, all the selected applicants are invited for an interview in English and subsequently notified in writing. The final decision on admitting the applicant to studying in the US is on the US institution, which has the right not to admit the student and request a change.
Programme Organization and Conditions
The costs of a semester/year-long student mobility at a US university, are funded by the student, in combination with e.g. Erasmus+, the PU, and the partner HEIs. Partner HEIs reduce the total amount required for a semester/year of study abroad by e.g. awarding the student a grant, waiving tuition or other fees - e.g. admission and registration fees, or they provide Accommodation free of charge.
Tuition fees are waived. Students can be granted a contribution towards the costs of living (Accommodation and food) from available sources by the PU, Erasmus+ etc. Students pay the airfare, visa to the US, and, if need be, health care insurance directly at the host institution. Participants also pay the TOEFL fees. Students can make some extra money to spend on textbooks and their spare time activities by working at the campus of the given HEI.
If a nominated student decides to withdraw from the programme for reasons of a serious nature, he/she must immediately notify the Merrill coordinators at the PU IRO in writing. The written notification is submitted in Czech (to Vice-Rector for International Relations) and English (to the US institution) and must be signed by the student.
Following the completion of the mobility, the student is obliged to submit a certified list of courses taken at the US institution to the PU IRO.
There is no legal right to participation in the programme. No appeal against admission or non-admission is permitted. Reasons for rejection of admission shall not be communicated to the applicants. The selection committee reserves the right to make changes.
List of HEIs under the Merrill programme
For detailed information about the institutions and overview of study programmes, please refer to the HEI catalogues available at the UP IRO or relevant websites.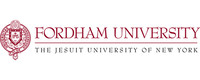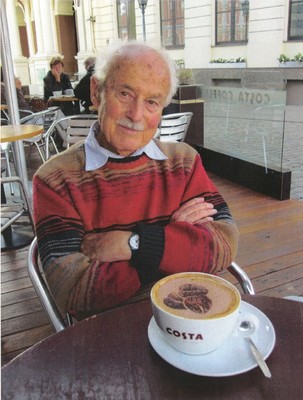 Charles Merrill (born 1920) is an American philanthropist, who has made a great mark on the history of Palacký University. In 1991 the University awarded him an honorary doctorate for pedagogical sciences in an acknowledgement of his lifetime achievement in education. Mr Merrill's concept of education has always clearly aimed at fostering intellectual curiosity in young people, respecting cultural differences and cultural plurality of the world, and cultivating democratic thinking and sentiment in support of human rights. He describes his rich experience with a successful and unique private school he founded in Boston, and directed for 25 years, in the book The Walled Garden (1982).
Charles Merrill studied history. After graduating from Harvard College he served in the army on the Italian front until the end of World War II. He became interested in the Czech Republic and the historically troubled Central Europe region already in 1938 thanks to the Munich Crisis. Immediately after the war Charles Merrill taught under the Fulbright Programme in Austria and often visited Czechoslovakia and Poland, even after both the countries were sealed into isolation by the Iron Curtain.
He welcomed the fall of Communist totalitarian regimes by founding his "Czech and Polish education project", which gave rise to the "Merrill scholarship" programme. Thanks to it, nearly 150 students of Palacký University have travelled out over the past ten years, since 1990, to spend an entire study year at institutions of higher education in the United States and Latin America.
Charles Merrill has documented his relationship to Central Europe and the related personal experiences in his book The Journey (1996). Some of his other works include the novel Emily's Year (1991) and a book dedicated to the political and ethical aspects of foundation philanthropy, The Checkbook (1986).
Merrill's brother James (1926-1995) was one of the leading poets of his generation. The publications of both the men can be found at the University library.
Text by Josef Jařab, 2000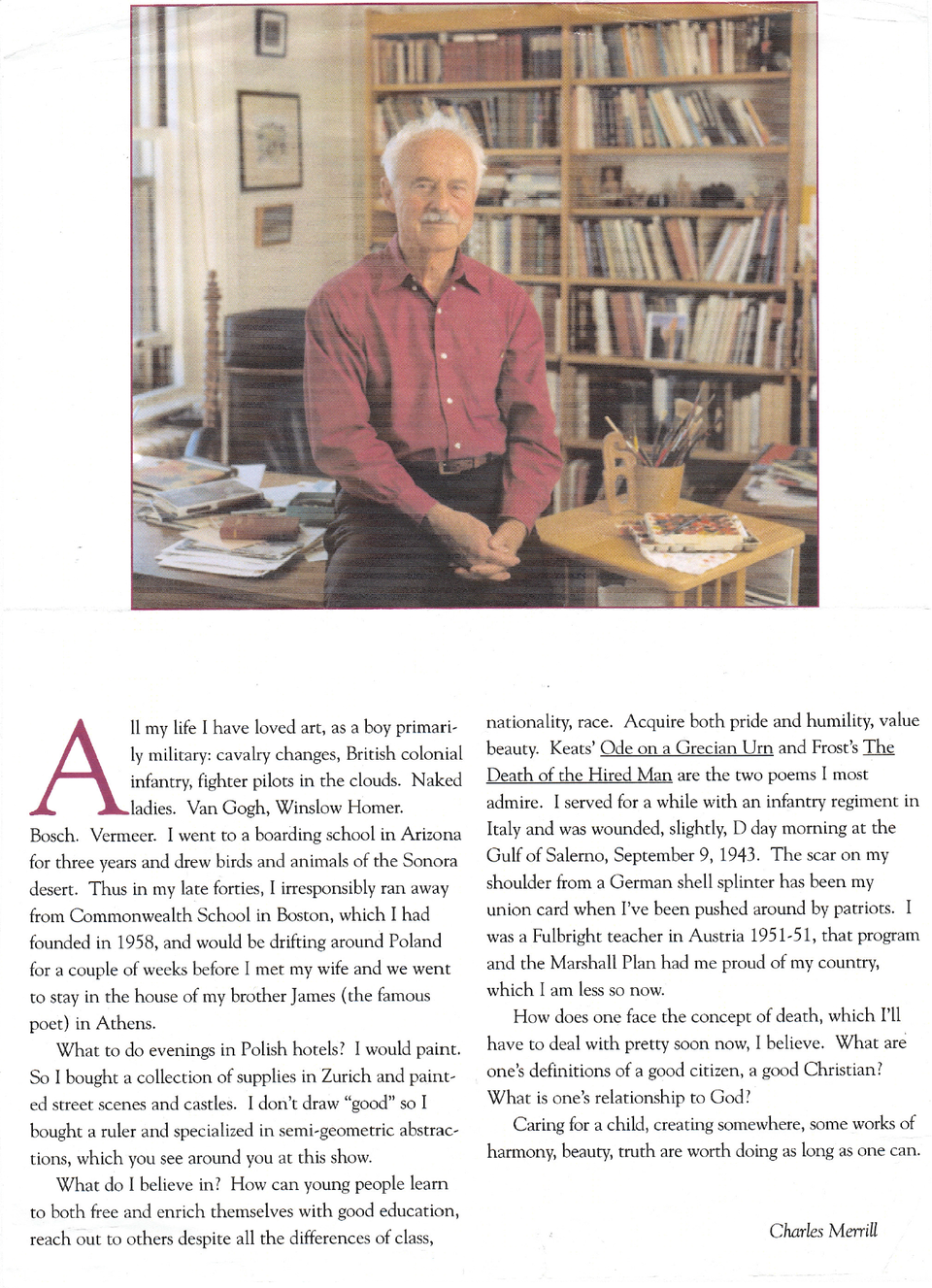 Commemorating Mr. Merrill
Commemorating the 5nd anniversary of Charles Merrill, Jr. death on November 29, 2022 we keep our wonderful memories of him and continue activities of the "Merrill Program" while announcing a new call for UP students in 2023/2024.
The legacy of Mr. Merrill at Palacký University lives on and "Merrill students" always remain grateful for his support.
A Message from the Artist
May-June 2003, University of Massachusetts Boston
"As one comes closer to the end of the trail, one asks what is left. What has one accomplished? What might others remember or never know? I was married to Mary Klohr Merrill for 58 years. I helped raise five children and was an on-looker for eight grandchildren, which I suppose is one claim to immortality. I had an established education at a New England boarding school and The World's Greatest University. During the war, My War (we've had lots), I served in both the Canadian (a nicer uniform and my commitment to the international struggle against fascism) and American armies. As an entry-level employee of the 141st Infantry Regiment, 36th (Texan) Division, was slightly wounded D-day morning, September 9, 1943, the landing in Italy, by a German shell splinter. Good deeds? That same morning looking after a badly wounded German soldier.
I helped an older friend start a boys boarding school in the suburbs of St. Louis, Missouri, some years later took my family to live in Paris while (like all Americans) I wrote a novel that would let me be an international literary figure .. It didn't. What to do? With money inherited from a wealthy father I started Commonwealth School in Boston, which I managed as teacher and headmaster for 23 years. It was the most important job I ever held and demanded every bit of skill and endurance I possessed. Culture and civilization, responsibility, decency, independence, joy-what is possible to share with young people? Respect for hard work well done. To learn to be a good citizen.
In February of 1969 I ran away from Commonwealth for a semester. Mary and I would drive through Yugoslavia to spend three months with my two younger sons at my brother's house in Athens. I left a couple of weeks before they were free and used that rime to drive around Poland, a country that had fascinated me ever since my first visit in July 1939. How do you spend two weeks of winter evenings in Polish hotels? I would paint. In Zurich I purchased a cheap set of supplies: colors, paper, brushes. That's all that's needed. The end result you see on these walls of the UMass Boston Harbor Art Gallery. Who were my teachers? Klee, Malevich, Mondrian, Kandinsky, Kupka. Ben Nicholson, no colorist but with lean, graceful lines I admired, the only English speaker. Oddly, no Americans. With better therapy I might have become less dependent on a ruler. Favorite colors: red, orange, yellow, indigo. Since my job was dependent upon words and people, I was grateful for the silence and solitude of painting. A few works I sold, but what is a painting worth? I preferred giving them away, to friends and family, to hang in schoolrooms and libraries."
Charles Merrill
Commemorating the 2nd anniversary of Charles Merrill, Jr. death on November 29, 2019 we keep our wonderful memories of him and continue activities of the "Merrill program" while announcing a new call for UP students in 2020/2021.
The legacy of Mr. Merrill at Palacký University lives on and "Merrill students" always remain grateful for his support.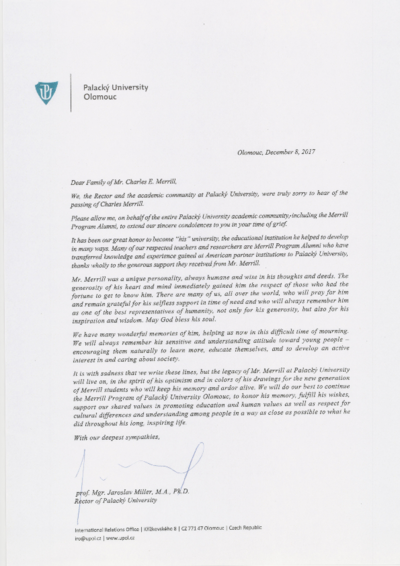 Memories of Merrill programme Alumni
"Dear Mr. Merrill,
let me express how much I feel honored and obliged to thank you for all your support thanks to which dozens of students had the opportunity to study in the USA and experience, among other things, the liberal arts approach.
I subscribe to the idea that education faces a serious problem if the arts and humanities are being cut away to the advantage of economic growth promoting academic areas. The educational system in Europe challenges the opportunity to get educated in the configurations of disciplines of arts, humanities and natural and social sciences at the same time. In fact, humanities and arts cultivate students so that they can become more sophisticated critical thinkers, seeing issues from different perspectives and through the lens of many types of susceptibility.
We might have shared the same passion for travelling, getting acquainted with strangers and discovering foreign cultures for the benefit of a better and responsible democratic society. If this is the message that you wanted to convey through your support of the student exchanges, I will be more than happy to convey it further and share it with as many people as I can."
Tereza Válková
Tereza also wrote a letter of thanks to Mr. Merrill which you can find HERE.
"I really appreciate that I was given an opportunity to be one of Merrill students. My two semesters at Hampshire College in Massachusetts were an amazing experience that changed my life. I learnt much more about the USA and myself than I expected. I am very grateful that one of my dreams came true thanks to Mr. Merrill."
Terezie Zegzulková
"My name is Jitka Zehnalová and since 1998, I've been working as as an Associate Professor at the Department of English and American Studies of the Faculty of Arts, Palacký University, Olomouc. I am one of the first "Mr. Merrill's students", my study stay supported by the Merrill Scholarship took place at St. Andrew's College, North Carolina in the academic year 1991/2. It was a real milestone in my life - a professional one on the one hand, because it motivated me to join the PhD program at the Department, which enabled me to become a teacher there, on the other, and probably even more importantly, a milestone that changed my opinions and way of thinking. It was a big dream come true, made possible thanks to a wonderful person who believed in the value of education and of the mutual "getting to know you" opportunity for people of different cultural and social backgrounds, a personality who was able to give a real meaning to words generosity and help.
I will never forget our personal meetings. The first one happened during my stay at the College, several more came about during his visits to Olomouc. Time and time again I was touched by his modesty, wisdom and loyalty to the values he believed in. Mr. Charles Merrill was a unique man, one of those who change the world for the better. He will stay with me in my memories."
Jitka Zehnalová
"To be honest - I have never met Mr. Merrill, I have managed to write him letter while I was at the Miami University (Ohio) 2005/2006. I have read his book and he (together with the team at the Palacky University), made it possible for me to study in USA. The both years at the Miami University were great experience. (First year I was there through Merrill scholarship, second through the scholarship provided by the Miami University) Mr. Merrill was very inspiring person for me - educated, well-rounded with the heart on the right place. I will try to be more like him..."
Michal Janoušek
"9 years ago I was given an opportunity, as one of twelve students, to participate in Merrill Program. That particular year at Miami University has been a highlight year of my life. Not only was it an immense experience for me, it was also a major life changing impetus. Not having met Mr. Merrill in person, I will never be able to thank him enough. However, I will always be grateful."
Martin Tamáš
"I regret to read the information about Mr. Merrill's death.
A great man like him who built the Merrill program and helped so many students will not be forgotten. I believe that the continuation of the Merrill program is meaningful even nowadays, as a means of education and understanding between the American and European/Czech worlds. Personal experiences of the Merrill Program are non-transferable and invaluable for everyone."
Vilém Skyba
"I spent my fourth year as a Palacky University exchange student at the Moravian College in Pennsylvania. Eight years later, I still remember those times, and I refer in my life to this very special year, when I was a student at a prestigious college in the States. The knowledge and the experience I gained during only one year has been life-changing, eye-opening, and has enriched me, I believe, for the rest of my life. I strongly believe that every student should take part in a study-abroad program. I appreciate so much the opportunity that I had to be a part of the Merrill program, and I will always be grateful to Mr Charles Merrill for what he has done for me and many more students. I believe that all of us who passed through this program still have Mr Merrill in the back of our minds, and we know that we will try to be as generous and as open-hearted as Mr Merrill was. I am so happy I had the chance to meet him. Listening to the stories told by the professors at Moravian College who knew him, I came to realize that behind it all was a single amazing human being. It has shown me that even one person can make a huge difference in so many lives, and that everything we do should be done with passion and commitment, because it's worth it. Mr Charles Merrill has been a great example to all of us."
Eva Čížková
"Charles was one of the most inspiring people I have met in my life. He was passionate about exploring new cultures & trying to understand the modern world thru people interaction. He was always full of the energy that brought everyone in immediately. Thanks to his generosity many Czech students with me included have been able to become a part of very progressive American educational system. These semesters abroad change my life for sure & I expressed my gratitude to Charles over few letters in past years."
Karel Pávek
"Merrill program was such a great experience for me. It allowed me to develop my professional knowledge and skills in the field of Psychology, which I was studying at Moravian College in Pennsylvania. I also got involved in couple of extracurricular activities, namely I got into Google New York for a business externship. This all was a great experience, which helped me to get a job in American company in Prague after my graduation. I greatly thank to Mr. Charles Merrill for his opportunity he gave me."
Lukas Kubicny
"Mr.Merrill´s scholarship has been a great school for me and an inspiration for the next steps and decisions. I have gained not only a greater sense of autonomy and self-confidence, but also the knowledge that the world around is much larger and more diverse. I enjoyed literature lessons where I learned how to perceive literary works from another perspective, how to read between the lines and think about the lives of the heroes. I was passionate about taking part in the sociology lessons in the difficult U.S. autumn time of 2001. For all above I am grateful to Mr. Merrill who showed goodwill allowing young people to study and gain further experience. Thank you!"
Veronika Svobodová
"Merrill scholarship enabled me to spend a year studying journalism at Goshen College, Indiana. It was without any doubt one of the most interesting life experience, which enriched me immensely not only as a student, but especially in terms of my personal development. Mister Merrill will always be my role model and I strongly believe his legacy will last through the scholarship."
Michaela Krýdová
Alexandra Martina Běhalová
"Fall semester I spend at Hampshire College in Massachusetts as an exchange student. It was an amazing experience for me and I am sure I will never forget it. Hampshire College is a place with very specific atmosphere – it is a liberal arts school focused on social justice which makes the school kind of different than you might expect. The alternative curriculum and system of education showed me different point of view and deeper understanding on some topics. Professors and students are interesting people who always offer help and they were a great inspiration for me. Hampshire is not just about classes but also offer to join many student organizations and clubs, there is many student events and things to do. I am really grateful that I had this opportunity and I recommend it hundred percent!"
Anežka Čížková
"I would like to thank you very much for the opportunity to study in the USA. I have to say that I really liked Moravian College and I did not expect to love it so much. The education system is quite different and I am glad I could compare it. The school organized an event to commemorate the 100th anniversary of Czechoslovakia, we ceremonially planted a tree and then we had a Czech dinner. Even the writer Peter Sís and others took part - see the photo gallery."
Nikola Tillová, Moravian College, 2018
"I am very grateful for the opportunity to participate in the Merrill program. I had the chance to spend a semester at Moravian College in Bethlehem, Pennsylvania where I enriched my knowledge and broadened my horizons. Thanks to the program I gained a lot of experience in the field of my study, the International Relations. It also brought new people and friends to my life and I made loads of unforgettable memories. For that I am very thankful, and I will remember to be a part of Merrill's program forever."
Kristýna Karešová, Moravian College, 2019
Photographs of Merrill programme Alumni